COMEDY WORKSHOP – Maximising Your Stand-up with Stephen Grant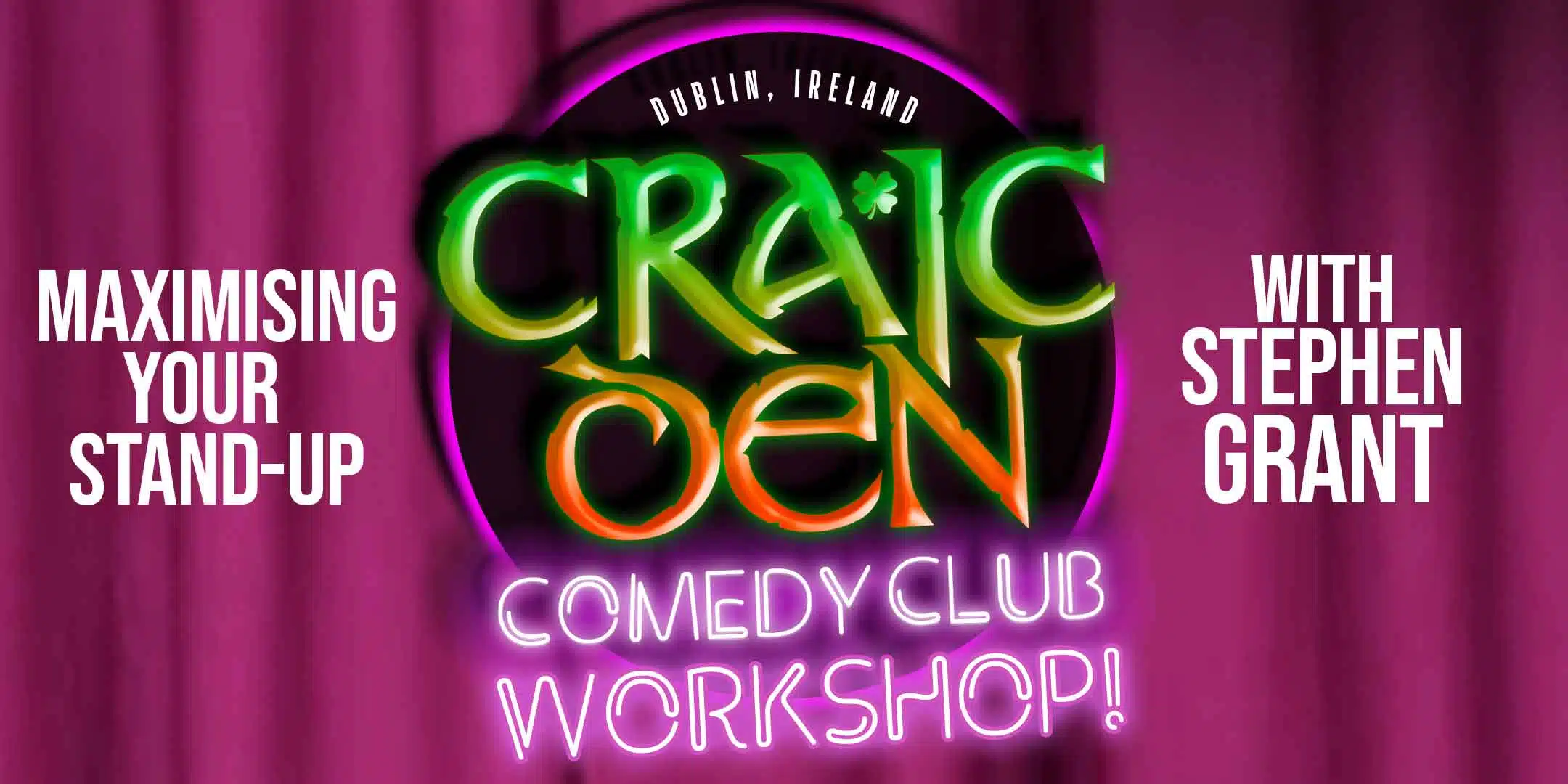 Event Date:
27 January, 2024
Maximising your Stand-up
 with Stephen Grant
*How to get the most out of your material and performance*
A one day Masterclass (12 midday – 5PM) taking place upstairs at The Workmans, 10 Wellington Quay. Enter through Bison Bar.
Please read to the end for all info:
Typically, there are 3 stages of developing material through stand-up; coming up with the initial idea, developing into a performable state, and then finally, 'finessing' the delivery, wording and structure to make the most of it. This process is commonly the most overlooked and the least understood.
This workshop is as aimed at everyone from new acts to moderately experienced acts and details the process you go through to identify the areas that need work, and then in turn, how to address the material to get the most out of it. In the day we will cover the procedures involved in disseminating every acts' 'attributes' and dealing with each element in turn. Some of the technical processes involved; i.e. recording yourself & playing it back / transcribing your act, methods of rehearsing for stand-up, and how to identify which areas to work on are also covered. Some of the practical approaches, for example, when to drop material and how best to work in new material – will also be looked at.
The course will take a procedural approach and each attendee will be offered to perform a short section of their set so that feedback both common to all performers and specific to the individual will be worked through in a group setting. This course covers almost a completely different process to what has been covered in Stephen's previous workshops but prior knowledge of those courses is not required to attend this.
———————-
About Stephen Grant
Stephen Grant is one of the UK's funniest, hardest working and most respected comedians. Whether entertaining full-size theatres, voicing animations, warming up TV audiences, presenting radio shows or hosting corporate award nights Stephen never fails to pull in the laughs.
Stephen is , the curator of the Forge Comedy Club, Britain's most advanced comedy venue. A multi-award winning MC and the most experienced late show compere in the UK due to his 23 year residency at the Krater Comedy Club. He performs at clubs and corporate events all over the UK and on the international circuit and has taken six critically acclaimed shows to the Edinburgh Fringe since 2003.
"Brilliant" The Scotsman
A repeat award winner of Best UK Compere, Stephen Grant is one of the hardest working comedy performers and writers in the UK.  He was the host of the Krater Comedy Club at Komedia between 1999 and 2022, which won Best Comedy Venue in the South for an unprecedented amount of times. In Jan 2022, Stephen started the Forge Comedy Club in Brighton's newest and most advanced performance space.
As a performer, Stephen is a regular headliner at The Comedy Store in Leicester Square. He possesses an energy and intellect which combined with his eight years in the corporate world make for a perfect experienced host and entertainer for any event. Clients often return to Stephen for repeat engagements due to his ability to vary his content and material, often tailoring it specific to the client's requirements and industry.
"Grant, whose regular slot at the Brighton Komedia Club has earned him a cult status, is an engaging host and an easy person to spend an hour with." The Independent
Stephen still finds the time to headline and MC gigs all over the country. His speed and dynamism create a magical energy which has audiences rapt and hanging onto his every word. As a writer, Stephen has written on TV shows from Mock the Week to Live at the Electric as well as for Lee Nelson's Well Good Show and Channel 4's Stand Up For The Week.
As a writer of Live shows, Stephen has written, directed and script edited on over 120 different shows for over 50 different comedians, and is probably Britain's number 1 director of stand up comedy.
"The kind of comedy vision that can see round corners" Chortle
Stephen's awards include:
WINNER BEST COMPERE – CHORTLE AWARDS 2011
RUNNER UP BEST COMEDY SHOW – LATEST AWARDS 2010 
NOMINEE BEST COMPERE – CHORTLE AWARDS 2010
FINALIST BEST COMPERE – CHORTLE AWARDS 2009
FINALIST – COMEDY WRITER – MIPTV CANNES 2009
WINNER BEST COMPERE – CHORTLE AWARDS 2008
WINNER BEST COMEDIAN – JUICY AWARD 2003
FINALIST – DAILY TELEGRAPH OPEN MIC AWARD 1998
FINALIST – SO YOU THINK YOU'RE FUNNY? 1997
---
Cost: 50 euro is the full fee.
Ticket is 25 euro deposit. And remainder is to be paid on the day
Attendees: Min 8, Maximum 16
Expected experience level: 6 months – 20 years (not suitable for those who have never performed before)
Duration 5 hours (inc 2 15 min breaks, and a 30 min lunch break) (12 midday – 5PM) taking place at The Workmans, 10 Wellington Quay. Enter through Bison Bar.
PLEASE EMAIL EDDIE@CRAICDENCOMEDYCLUB.COM FOR MORE INFORMATION.
Register Now: